Stanley Sinks in for Sweeney - July 17, 2011
11 Years Online! - October 9, 2010
Don Sweeney Promoted to Assistant GM - September 26, 2009
Bruins promote Sweeney to Director of Hockey Operations - July 14, 2007
Bruins name Don Sweeney as Director of Player Development - June 21, 2006
(Retirement) Old-school defenseman is summoned to the dean's office - September 18, 2005
Website Updated after Six years of collecting dust - August 13, 2005
Same number, different team. Joining the Stars and the upcoming CBA. - December 5, 2003
Dallas Stars Sign Don Sweeney to a one-year deal - July 14, 2003
Sweeney bleeds black and gold - April 22, 2003
Goal by Donnie gives Bruins a tie and a much needed point - February 4, 2003
Sweeney plays his 1,000th game for career and Bruins - November 17, 2002
Sweeney aching to play, out for health reasons - May 17, 1999
Goal by Sweeney ties series against Hurricanes - April 29, 1999
Sweeney injured in win verse Islanders - March 2, 1998
Don Sweeney Chat Transcript from BostonBruins.com - October 3, 1997
---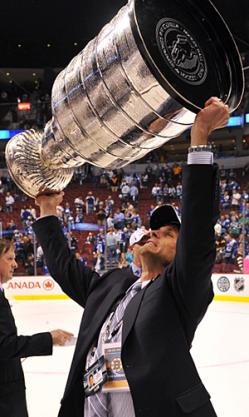 Stanley Sinks in for Sweeney
Day with the Cup brought a "sense of reality" to B's win
Sunday, 17.07.2011 / 7:11 AM / Features
By John Bishop - BostonBruins.com
BOSTON -- Assistant General Manager Don Sweeney kept his profile low during his local date with the Stanley Cup, but true to form, the Harvard University alum remembered his history and made sure to thank one of the most memorable personalities in US hockey and Harvard hockey lore before circling back to thank the most important names in his own personal history.
"My boys [Jarrod and Tyler] came with me and We went over to Jack Kirrane's house in Brookline," said Sweeney. "Jack was the captain of the 1960 Olympic team that won in Squaw Valley.
"He was just instrumental during my time at Harvard, we developed a nice long time relationship and I just thought so highly of him as a person. He's run into some health issues and he lost his wife not too long ago and I just thought, 'If there's anybody that will appreciate this it will be him.'"
Kirrane was a member of Team USA during the 1948 and 1960 Olympic games and earned a gold medal during the United State's first "Miracle on Ice." A Brookline fire firefighter (who famously had to take an unpaid leave of absence during the Olympics and sell his pickup truck to even afford a plane ticket to get to the tryout), Kirrane was also the longtime rink manager for the Crimson.
"He couldn't come to the barbeque I was planning to have during the day and the evening, so I felt like, 'I'll bring it to him.' So that's how I started the day," said Sweeney, who played on the Crimson blueline from 1984-88.
"He ran the Arena for I-can't-tell-ya how many years, so he was an institution over there for a long time," he added. "You go ahead and ask any of the Harvard hockey guys -- male or female -- and they'll fill you in that Jack Kirrane was a big part of all of our lives."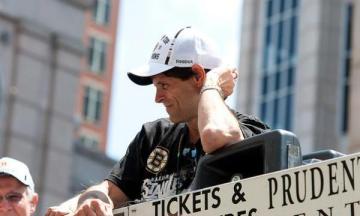 Sweeney also made sure to take the necessary time to thank other instrumental people from his family's circle of friends.
"I felt I needed to take it to some very, very good friends of ours...they used to be our neighbors. The Arakelian family had graciously offered to host the barbecue party at their house," said Sweeney, who is in the process of moving his own household. "The Arakelians own Baystate Pool Supplies, so I took it to the office building to let the people who work for them to see it.
"So I walked in unannounced and they all got to have their picture taken with it."
Like many of the people who get to have a day with Lord Stanley, Sweeney also chose to take the time to thank some local hometown heroes.
"We went to the Police and Fire department," said the former B's defenseman. "Some of those guys were on duty and wouldn't have had the opportunity to see it, so I stopped in there for a tour."
Then it was picture time for the Sweeneys, Arakelians and company.
"We went to the Arakelien house and we had a bunch of family portraits and pictures with a professional photographer for their family and mine and some real close friends prior to the mass of kids and families arriving in the afternoon," said Sweeney.
And finally it was time to eat.
"We had a big barbecue and people had a chance to take the picture taken with it," said Sweeney, who wanted to make sure that lots of people had a chance to share in the B's good fortune.
"It might only come once in a lifetime," said Sweeney, who added, "We hope it's more than once -- but it took a long time to get it in the first place!"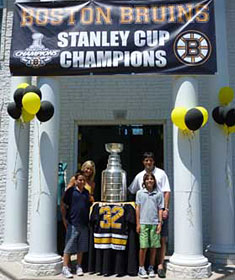 However, Sweeney was very serious about the Stanley Cup as a symbol of hockey's highest achievement.
"When we won it I was more emotional than I would've thought," explained the B's assistant GM, who was a member of the B's organization as a player from 1988 through 2003.
"I have an incredible amount of respect for the guys who were able to close the deal -- I was part of a team that wasn't able to and I know the toll it takes on you."
As such, Sweeney's guests strictly followed the few rules for etiquette around the Stanley Cup.
"You could certainly hug it, kiss it, whatever you like to do," explained Sweeney, "but nobody was going to lift that thing. And some people said, 'Are you going to drink out of it?'"
The former Black & Gold blueliner did not and neither did his guests.
"If you don't win it as a player I don't think you deserve to drink out of it. That's my own personal [feeling]. Everybody else can do what they want, okay, that's just how I felt...[given] the respect factor for the guys that have accomplished it," he said.
For Sweeney, who played 1115 NHL games, just having the Cup for a day helped the B's achievement hit home.
"It brought a real sense of reality to the accomplishment that all of us get to share," he said. "Every one of us [in the organization] worked incredibly hard to try and put us in a position to allow these guys to get it done and they went out and got it done."
And, terms of his own personal part of the accomplishment, Sweeney said that his family and friends deserved a lot of credit, too.
"My immediate family has been there every step of the way," said Sweeney. "It starts with my mom and dad, my brother and sister and their families...and, obviously, friends that impact [your life] and have stuck around."
But Sweeney said his most important moments with the Cup were reserved for his sons and his wife Christine.
"A lot of it, for me, focused on my two boys and my wife," emphasized Sweeney. "I just felt like I wanted to stand up there with the Cup beside us and have everybody understand that what she's meant along this path -- this crazy journey that I've been on to try and win that thing -- and I've been 21 years of that 39 that we hadn't won.
"She does understand that. She's a former athlete [a figure skater, who with pairs partner Doug Ladret, won the 1988 Canadian Figure Skating Championships] but I wanted everyone to know that she shares in this thing as much as I do.
"And I wanted her beside me for me to be able to tell everybody...that this is as much your journey as it has been mine," he said.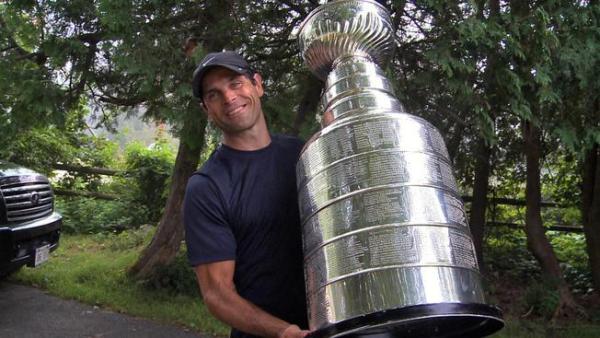 ---
11 Years Online!
Webmaster - October 9, 2010
The Don Sweeney Tribute Page was created in March of 1999.
So many things have happened since then. I graduated high school, went through jobs and a decade of experiences, got married... and just last month had my first child.
Sure, this is a low maintenance web site that really only requires me to update it every once in a long while. And it's really nothing fancy, just the way I intended it to be.
But it's nice to know that Don has had a tribute site for 11 years. And that Tripod has hosted it all that time. And even that Dreambook is still around and kickin even if nobody signs it anymore.
Pretty cool.
---
Don Sweeney Promoted to Assistant GM
BostonBruins.com - September 26, 2009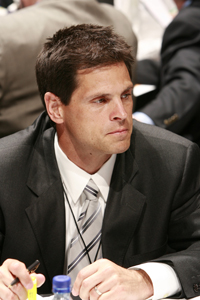 BOSTON, MA - Boston Bruins General Manager Peter Chiarelli announced today that the club has promoted Don Sweeney to Assistant General Manager. Sweeney joins Jim Benning as one of the two Assistant General Managers of the club.
Chiarelli and Sweeney will be available to the media Saturday at 6:40 p.m. in the Will McDonough Press Room at the TD Garden, before the Bruins/Blue Jackets contest at 7:00 p.m.
"Don deserves this promotion," said Bruins General Manager Peter Chiarelli. "He is a very diligent person who truly cares about the welfare and development of the player both from the personal and professional perspective. In his three years as part of our management group, he has shown tremendous passion, a growing aptitude for the business side of hockey and most importantly the willingness and enjoyment of being part of a management team and learning from others like Jim Benning and Scott Bradley. I believe in this business model with two assistant GMs because of the ever increasing intricacies of this business and the good chemistry between those in our group. Jim, Don and Scott will all continue to have specific duties and responsibilities, and I will continue to rely heavily on all three individuals."
2009-10 will be Sweeney's fourth season in the Bruins front office. He joined Chiarelli's staff in June, 2006 as the team's Director of Player Development and added the position of Director of Hockey Operations to his portfolio in July, 2007. He oversees the development of the team's drafted prospects at the AHL, junior hockey, college and European levels in addition to having a supervisory role in the day-to-day operations of the hockey department.
Sweeney organized and ran the team's first off-season Development Camp in July, 2007, bringing the club's top prospects to Boston in advance of the main September training camp. Development camp gives the prospects the opportunity to get to know each other on and off the ice while teaching them the level of dedication and training necessary for them to reach the next stage of their careers. The Development Camp is now an annual event, with the third such camp held this past July.
Drafted by the Bruins as their eighth pick, 166th overall, in the 1984 NHL Entry Draft, he went on to play four seasons of college hockey at Harvard University. He earned both NCAA East All-American and ECAC First Team All-Star honors with the Crimson and played in the 1986 NCAA Finals before graduating with a degree in Economics.
The defenseman played 16 seasons in the National Hockey League, including 15 in a Bruins uniform. He is one of just two defensemen and four players in team history to play over 1,000 games in a Boston sweater and he still ranks third on the team's all-time games played list. He also ranks in the top ten of the club's all-time lists in career goals, assists and points by a defenseman. He played his final NHL season with the Dallas Stars in 2003-04.
---
Boston Bruins Promote Benning and Sweeney
BostonBruins.com - July 14, 2007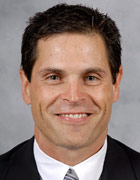 BOSTON, MA - Boston Bruins General Manager Peter Chiarelli announced today that Jim Benning has been promoted to the position of Assistant General Manager and Don Sweeney has been promoted to the position of Director of Hockey Operations and Player Development.
"Jim has experience in a number of different positions, and he has achieved success wherever he has been," said Chiarelli. "His expertise in player evaluation, and his knowledge of the league-wide landscape will be extremely valuable to the organization."
The 2007-2008 season will mark Benning's second year with the Bruins organization. He spent the 2006-2007 season as Director of Player Personnel, after being named to the position on July 25, 2006.
Benning came to the Bruins after twelve seasons in the Buffalo Sabres organization, where he spent the previous eight seasons as their Director of Amateur Scouting. Prior to his tenure in Buffalo, Benning spent time as an amateur scout with the Anaheim Ducks organization.
A former defenseman, he was drafted by Toronto as their first pick, sixth overall, in the 1981 NHL Entry Draft and played nine seasons in the National Hockey League with the Maple Leafs and Vancouver Canucks.
Sweeney, who spent last season working as the Director of Player Development for the Bruins, spent 15 of his 16 NHL seasons as a player wearing the Bruins sweater after being originally drafted by the Bruins with their eighth pick (166th overall) in the 1984 NHL Entry Draft.
"In one year, Don has shown great hockey aptitude, and has been instrumental in moving forward our development plans for our young players," said Chiarelli. "In his new position, Don will bring his expertise to the day-to-day hockey operations, and he will oversee our player development."
He is one of just two defensemen and four players in Boston history to play over 1,000 games, and ranks third on the team's all-time games played list. Sweeney also ranks in the top ten of the club's all-time lists in career goals, assists, and points by a defenseman. He played his final NHL season with the Dallas Stars in 2003-2004.
Sweeney, a native of St. Stephen, New Brunswick, graduated with an Economics degree from Harvard University where he played four years and was an All-American.
---
Boston Bruins name Don Sweeney director of player development
AP - June 21, 2006
The Boston Bruins have named Don Sweeney to the position of Director of Player Development, it was announced today by Bruins Interim General Manager Jeff Gorton.
Sweeney's responsibilities will include tracking the progress of all prospects in the Bruins' system at the AHL, junior hockey and college levels, scouting of professional leagues and other duties in support of the team's Hockey Operations department.
"Don's background as a player makes him well suited to this position," said Gorton. "He knows what it takes to have success in this league, as speed and consistency were his hallmarks as a player. The work ethic he displayed at every practice and every game allowed him to get the most out of his ability over a long career and he will serve as a great guide for our prospects as they progress in their development."
Sweeney, 39, was drafted by the Bruins out of high school as their eighth pick, 166th overall, in the 1984 NHL Entry Draft. He went on to play four seasons of college hockey at Harvard University, including three as a teammate of incoming Bruins General Manager Peter Chiarelli, and earned both NCAA East All-American and ECAC First Team All-Star honors with the Crimson. He helped lead Harvard to the 1986 NCAA Finals, where they bowed to Michigan State.
He turned professional in 1988 after earning his degree in Economics and split his first two professional seasons between Boston and their AHL affiliate in Maine. He played 15 seasons and 1,052 games in a Bruins uniform, as he is one of just four players (two defensemen) in team history to play in over 1,000 games, and he was a member of the 1989-90 Bruins team that reached the Stanley Cup Finals.
He still ranks third on the team's all-time games played list and among all-time club defensemen, he ranks tenth in career goals, eighth in assists and ninth in points with 52-210=262 career Boston totals.
Sweeney concluded his NHL playing career in 2003-04 with the Dallas Stars. He retired with 52 goals and 221 assists for 273 points and 681 penalty minutes in 1,115 career regular season games and added nine goals and ten assists for 19 points with 81 penalty minutes in 108 career playoff contests.
He served the last year as an Assistant Dean of Admissions at Phillips Academy Andover and was also a studio analyst for Bruins games on New England Sports Network (NESN).
He and his wife Christine have twin sons, Jarrod and Tyler.
---
Old-school defenseman is summoned to the dean's office
By Kevin Paul Dupont, Boston Globe - September 18, 2005
Another week gone by, and more familiar names gone silently into the good night. The biggest names last week were Mark Messier and Ron Francis, the classy ex-Whaler who hung it up after 23 years. He took a front-office post with the Carolina Tropical Depressions. Ink in November 2008 for the Messier-Francis Hall of Fame inductions.
Meanwhile, ex-Bruin Don Sweeney was so understated with his decision to retire that some of the folks at Boston-based Global Hockey Consultants (the agency that represented him for years) were unaware. The 39-year-old Sweeney not long ago began a new career as assistant dean of admissions at Phillips Andover Academy (former stomping grounds of President Bush and Bill Belichick).
''I generally pour most of me into whatever it is I'm doing," said Sweeney. ''The more I look at this opportunity, while making up my mind during the lockout, the more excited I got about it.
''Where does it lead? I'm not sure, and I'm not sure that matters for now. I don't know if there is an end point, but I'm on board, full steam ahead, and I'm excited to see where it leads."
The dynamo ex-defenseman is also intrigued with the idea of helping out the school's hockey program when time allows.
''No title, just a volunteer consulting thing," said Sweeney, who was a mainstay on the Boston defense for 15 seasons before spending a wrapup year with the Dallas Stars in 2003-04. ''I'd feel almost like it was a disservice to me if I wasn't involved somehow, and I think the school would look at it as a wasted resource."
---
WEBSITE UPDATED AFTER SIX YEARS
Webmaster - August 13, 2005
Believing that this site was long ago left for dead by Tripod, I stumbled across it not too long ago and was shocked. The last update had been in March of 1999, and not only was it still online, but people were still visiting. I had the uncontrolable urge to revive it and make it new again. As you can see, I kept it as simple and basic as the old site. But it looks alot better, in my opinion.
I'd like to thank Tripod for leaving cobwebs on the internet. If they still host pages that have not been touched since back in the day, '94 or so, then they are a priceless gem. I'd also like to thank Dreambook for keeping the guestbook for this site running. But most of all, I'd like to thank Donnie for still playing and contributing to the depth and knowledge of teams like a true veteran should.
I have dug up a few old news articles that this site has missed since it's last update.
---
Don Sweeney -- Same number, different team
Jo Ann Lawery, Buzzle.com - 12/5/2003
For 15 years, Don Sweeney was "the other defenseman" on the Boston Bruins besides Ray Bourque.
He was a fan favorite not only because of the way he played, but because he played his college hockey and got his degree from Harvard University, right in the Bruin's back yard.
He still plays defense and still wears his familiar No. 32, but this hockey season, something is completely different.
Like Bourque, Sweeney won't be ending his hockey career in "Beantown." He's now a member of the Dallas Stars.
If you watched the Boston Bruins as much as I did in the late 1980's and late 1990s, something looks really strange about seeing "Sweens" in another uniform.
Sort of like seeing Karl Malone in a Los Angeles Lakers uniform and waiting for John Stockton to show up.
Sweeney told me after the Dallas Stars practice on December 4th, the same night that they would play the Kings, that he, "wasn't surprised" that the Bruins let him go as a free agent. It was time for a change of scenery not only for him, but his family as well.
In the land of football, one would think that anything played on ice and with skates wouldn't be popular.
The Stars, who have won a Stanley Cup since moving from Minnesota, not only have fans in the Dallas-Fort Worth area, but Sweeney told me that the Stars have a big fan base in the Texas cities of Austin and San Antonio as well.
Sweeney is one of the few NHL players who is born in the Canadian province of New Brunswick.
He and his wife, Christine, a professional ice skater, have two twin boys, who are now four years old.
Like most Canadian children, the Sweeney boys have already started to skate.
Going on his 16th year in the league, Sweeney has seen many changes, one of which is the size of the players.
It's not just hockey players that are growing either. Players in the other sports are growing just as big and tall.
I also asked him about his thoughts on the collective bargaining agreement, and being an economics major, Sweeney had a different "take" on it.
He told me he sees the same issues now that were there in 1994.
Like most of the players, he doesn't want to see a work stoppage, but fears it might happen if both sides won't give in a little.
He's also worried about the fan reaction and what might happen if the dreaded "L" word (lockout) occurs.
"Hockey will suffer and the fans won't be apologetic to either side this time," he concluded.
© eSports Media Group
---
Stars sign defenseman Sweeney
SportingNews.com - July 14, 2003
DALLAS -- Longtime Boston Bruins defenseman Don Sweeney signed a one-year deal Monday with the Dallas Stars, who were in need of a defenseman after losing captain Derian Hatcher to free agency.
Sweeney has played his entire 15-year NHL career with the Bruins, breaking in during the 1988-89 season. He played in 1,052 career games -- third most in team history behind Ray Bourque and John Bucyk -- totaling 52 goals and 210 assists. He also has played more than 100 postseason games.
Last season, Sweeney had three goals and five assists in 67 games. He became a free agent when the Bruins did not to offer him a contract for next season.
Sweeney will "bring stability and depth to our defensive unit," Stars general manager Doug Armstrong said. "He strengthens our hockey club and will provide a veteran presence in our locker room."
Sweeney replaces Hatcher in the rotation. Hatcher signed with the Detroit Red Wings.
Sweeney was the Bruins' eighth pick, 166th overall, in the 1984 NHL draft. For years, he formed the nucleus of the Bruins defense with Bourque.
Known more for defense and checking than scoring, Sweeney posted a career high 34 points on seven goals and 27 assists in 1992-93.
He has nine goals and eight assists in 92 career playoff games.
---

Sweeney bleeds black and gold

By Mick Colageo, SouthCoastToday.com - April 22, 2003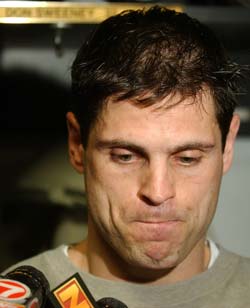 Don Sweeney, the last remnant of those who played in Boston Garden or in the 1980s, has played his last game as a Bruin.
"This is where my heart is to play hockey, there's no question," Sweeney admitted in the face of long odds the Bruins would make a contract offer this summer.
A source privy to trade talk corroborated the suspicion in this space that, earlier this season, after the Bruins had honored Sweeney for reaching the 1,000-game milestone, they were trying to deal him but found no takers. His $1.8 million annual salary was too expensive for a reliable fifth-wheel-type defenseman. Now that contract has expired, leaving the soon-to-be, 37-year-old in limbo.
Meantime, general manager Mike O'Connell has been stockpiling defensemen with recent high draft picks Nick Boynton (21st overall, 1999), Jonathan Girard (48th-1998), Jeff Jillson (14th-1999), Lars Jonsson (7th-2000) and Shaonne Morrisonn (19th-2001).
Boynton is already a card-carrying member of Boston's top four, along with Hal Gill, Dan McGillis and Sean O'Donnell. Unless O'Connell does not pick up Bryan Berard's option and doesn't resign journeyman Ian Moran, there's little room for Sweeney. And, with the possibility the NHL may shut down after next season while the league and the players' union negotiate a new collective-bargaining agreement, the Bruins are going to be anxious to see what these other kids can do.
Like Ray Bourque, who had to leave for the Rocky Mountains to claim hockey's ultimate prize, Sweeney has long dreamed he'd be part of a Stanley Cup winner. "I've chased that for 15 years here, trying to be part of that on the ice," he said. "It remains to be seen whether that's going to happen for me. But, obviously, I hope that happens, as a player and a fan."
While the Sharks, one of two obvious teams lacking blue-line depth, are a little far away in San Jose, don't rule out Sweeney signing a one-year deal with the Islanders, who lack veteran depth.
"I don't have the answer as to whether or not this is my last year as a Boston Bruin, I can't answer that truthfully," said Sweeney. "I'm going to miss them a lot more than they're going to miss me and they're going to miss me, I can tell you that much, so I'm going to be a fan, regardless of whether I play here or somewhere else or don't play at all."
---

Sweeney saves Bruins

BBC Sports, February 24 2003
Don Sweeney's second goal of the season earned Boston Bruins a 4-4 draw with the New York Islanders and a much-needed point.
Sweeney moved in on Islanders goalie Garth Snow and flicked a shot in the top left corner to keep Boston in eighth place in the Eastern Conference play-off hunt.
Boston also got goals from Glen Murray and Jozef Stumpel, and a goal and three assists from Brian Rolston.
Michael Peca scored two goals within 2:12 in the first period while Jason Wiemer and Jason Blake also scored for New York.
The result took the Islanders to within eight points of fifth place in the Eastern Conference.
---
Sweeney unlikely member of 1,000-game club
By Jim Rodenbush, TRIBUNE-REVIEW
Sunday, November 17, 2002
Boston defenseman Don Sweeney appeared in his 1,000th career game Thursday when the Bruins played host to the New York Islanders. Although he was the 180th NHL player to reach that mark, he was also among the unlikeliest.
Sweeney, a less-than-imposing 5-foot-10, 188 pounds, was the 166th pick of the Bruins in the 1984 draft. Only four players ever drafted lower than Sweeney have played in more games — Detroit's Luc Robitaille (171st pick), Gary Suter (180th), Kelly Buchberger (188th) and Dave Taylor (210th).
"Obviously, his size is limited," Bruins coach Robbie Ftorek said. "But no one has ever been able to measure the size of a guy's heart. That's what's gotten Donnie through it all, along with his brain and the experience he's gained over the course of his career."
Sweeney, who has 49 career goals and 645 penalty minutes, is the fourth Bruins player to reach 1,000 games, following Ray Bourque, Johnny Bucyk and Wayne Cashman, and the 35th player to reach that mark having played every game with the same team.
Sweeney, 36, will be an unrestricted free agent at the end of this season, his 15th in the NHL. He would like to return to Boston, but doesn't know what to expect.
"Quickness is the determining factor for me," he said. "Everybody loses things as you get older, and I'm not denying my age. When I lose quickness, I'll know it's time for me to go."
Two other players were in line to also play their 1,000th games this week. Carolina's Rod Brind'Amour reached the mark Friday against Philadelphia and the Flyers' Jeremy Roenick was set to do the same Saturday against the Bruins.
---
Sweeney aching to play
By Nancy L. Marrapese, Globe Staff, 05/17/99
Don Sweeney's wife, Christine, hadn't been able to watch his games in person for some months because of personal reasons. Sweeney wasn't able to play in Game 4 because of health problems. The media was told it was a back injury but this time of year, with all the secrecy surrounding aches and pains in the playoffs, it could've been his right toe for all we know.
However, Sweeney, with a little help from the medical staff and a great deal of support from his wife, suited up and not only turned in a sensational performance in yesterday's Game 5 against the Sabres but scored a crucial goal that tied the game midway through the first period and it served as a jumping-off point for Boston's 5-3 win.
''He said he wanted to play and that was good enough for me,'' said coach Pat Burns. ''If you're not missing a leg or an arm, you can go.''
Sweeney wasn't missing any extremities, fortunately, and though he's not 100 percent, he certainly played like he was.
''Everyone wants to contribute, it's not about goals, it's about wins,'' said Sweeney. ''I've been fighting something but I'm a little inspired by my wife and what she's gone through in the last little bit. I was happy she was able to come to the game for the first time in a long time and I was happy to see her there. To me, that was all the inspiration I needed.''
Sweeney said he didn't have to talk Burns into letting him back into the lineup. The coach often says that he doesn't want injured players to come back too soon lest he lose them in the first shift of the first period and be shorthanded the rest of the way. With Sweeney, he had no such worry. Sweeney played 22 minutes 25 seconds over 23 shifts.
''I said I wanted to play and he gave me the opportunity,'' said Sweeney. ''It's too hard to watch this time of year. You hope to get a little help from the medical staff and you put it on the line. Everybody put it on the line today. You can look at each other and you can smile at each other because you realize that you played for each other today.''
Sweeney, like many of his teammates, said the Bruins have played the best when the situation seemed to be the worst.
''The resiliency has been there for this club all year long,'' he said. ''It was an inspirational effort by everybody. We had lost three games in a row. Otherwise we're closed out. We wanted an opportunity to go back to Buffalo and to respond to the fact we hadn't played well. We needed to dictate a little more and we did that. Give us credit where it's due, I think we played very well.''
Stepping in, up
He had been relegated to an extra player, an insurance policy for the first four games of the series against Buffalo, but yesterday defenseman Mattias Timander stepped in and made a difference. Burns couldn't use Darren Van Impe because he was hurt and he opted to use Timander's young legs over Grant Ledyard's more experienced ones. Timander responded by scoring a goal, giving Boston a 3-1 lead midway through the second period.
''That goal was exciting,'' said Timander, who kept the puck in at the blue line and just let it fly from the point, beating goalie Dominik Hasek. ''I walked to the middle and just shot it. I knew I wanted to go high on him, that's where Don scored two goals. That's where he's a little vulnerable.'' ... Lost amid the excitement over the victory was the fact that defenseman Dave Ellett played only four shifts for 6:04 in the first two periods and missed the third because of an undisclosed injury ... Ray Bourque had six shots in the first period and seven total, a game-high ... The league announced that the Tampa Bay Lightning retained the No. 1 choice in the NHL draft, to be held at the FleetCenter June 26. The Bruins will pick 21st.
This story ran on page D08 of the Boston Globe on 05/17/99.
© Copyright 1999 Globe Newspaper Company.
---
Sweeney picks shot effectively
Defenseman finds mark at opportune time
By John Vellante, Globe Staff, 04/29/99
It was late in the second period and the Bruins, trailing, 1-0, were firing shot after shot at Carolina goalie Arturs Irbe.
But everything they threw at him was turned aside. It was one spectacular save after another and the Bruins were fast becoming one frustrated bunch.
Enter Don Sweeney.
The veteran defenseman, who has been a model of consistency at the blue line in this grueling playoff series, did something he doesn't usually do. He became offense-minded.
With Darren Van Impe and Kent Manderville serving matching roughing penalties and the teams skating four-on-four, Sweeney found the chink in Irbe's armor. He took a pass from Jason Allison and whistled the puck high to the far corner at 18:18, tying the game at 1-1.
The Bruins rode the momentum of that goal to a 4-1 win, evening the Eastern Conference quarterfinal series, 2-2.
It was the only shot of the night for Sweeney, his first goal of the series, and only his seventh in 85 career playoff games. Defense is the name of his game.
As big as the goal was, Sweeney wasn't in the locker room after the game to bask in the limelight. He showered, dressed quickly, and left without comment.
Heidi Holland, the Bruins director of media relations, would only say Sweeney made a hasty departure ''for personal reasons.''
But coach Pat Burns and Sweeney's teammates were willing to discuss how important the goal was.
''He's a veteran and we don't have too many of those,'' said Burns. ''But he's been around and he knows what the playoffs are all about. He knows that he has to raise his game.
''He goes unnoticed a lot, we don't really notice him, and then all of a sudden he makes a big hit or gets a big goal and makes the right play. That's experience and that's something that's really, really tough to explain in playoff hockey.''
The right play Sweeney made on the tying goal was to stay away from the puck. All four Carolina skaters flowed to the right and left the Bruins defenseman alone on the left side. Allison, who was fed a nifty pass from Dmitri Khristich, saw Sweeney cruising in alone on Irbe and flicked a perfect pass onto his stick. He wasted no time depositing it past Irbe's glove side.
''It was a big goal for us,'' said captain Ray Bourque. ''We had some good opportunities before that and had nothing to show for it. Don kind of burst [Irbe's] bubble. He was playing so well. I'll tell you, that gave us a big boost coming into the dressing room tied at 1-1 and we came out real hard in the third period.''
After Sweeney scored, he skated over to the bench and was greeted with a huge hug from Bourque.
''It was for the goal and for the team,'' said Bourque. ''I was just happy that we scored and tied it up. We're all pulling for each other and we're all here to do one thing and that's win this series.''
Bruins wing Rob DiMaio said the goal was uplifting.
''We were looking for something and playing pretty well and we had some good chances, but the puck wasn't going in,'' said DiMaio. ''Donny jumps in, [Allison] makes a great pass to him, and - boom - the tide turns and off we go. That was the difference.
''And believe me, it's a lot better to be tied at two games each than down, 3-1.''
This story ran on page C07 of the Boston Globe on 04/29/99.
© Copyright 1998 Globe Newspaper Company.
---
Bruins: Win and a loss
By Nancy L. Marrapese, Globe Staff, 03/02/98

Bruins, 5, Islanders, 4

UNIONDALE, N.Y. - It was ugly, it lacked flow, and it was sloppy but it was a win. And in the stretch drive, the resultant 2 points for the Bruins mean far more than how they were achieved. As artistry goes, if Saturday's 6-2 victory over Pittsburgh was a Renoir, yesterday's 5-4 decision over the New York Islanders was a mud pie.
Boston is 1 point out of fourth place in the Eastern Conference, a point in back of both Montreal and Washington. While the Bruins were happy about staying in the thick of the playoff race, they suffered a substantial blow when defenseman Don Sweeney left the game early in the first period with a broken left shoulder blade. Sweeney could be out for the season, which turned what was a meaningful victory into the sobering reality that a team that lacks depth can ill afford to lose one of its most reliable players.
Sweeney was sandwiched along the boards by Islanders right wing Steve Webb and skated right to the bench, knowing he was in trouble. He underwent X-rays, which revealed the break. He is scheduled to be reevaluated today, but the news does not look encouraging. Webb was not penalized for the hit, which saw him come across the ice several strides in order to hit Sweeney.
''It was charging, blatant charging,'' said unhappy coach Pat Burns. ''It doesn't look very good. It could be serious, for the rest of the year. We want more forechecking in the game, I agree, but defensemen will be going down like that all the time. When there are five or six strides a guy can take like that, your defensemen are going to go down. It's never one without the other. They want more forechecking, now you're going to have defensemen going down.''
Sweeney, one of five defensemen as Burns opted to dress 13 forwards, played just 1 minute, 22 seconds. When Sweeney went down so early, Burns called on Ken Baumgartner, a little-used forward with experience on defense, to fill in as well as giving more ice time to Ray Bourque, Dave Ellett, and Kyle McLaren.
The loss of Sweeney will impact the team down the stretch.
''We're going to miss him because he's a seasoned veteran,'' said Burns. ''We don't have a whole ton of those guys. Now the question is, how are we going to adapt to finding another one? This is not a situation where you can experiment.''
The trade deadline is three weeks away so don't be surprised if the Bruins go that route. Another option is Jon Rohloff, playing in Providence.
''I'm up against the boards but I'm against the steel stanchion which didn't have any give either,'' said Sweeney, describing how he was hurt. ''I got as ready as I could for the hit, trying to get the puck out. It happens. It doesn't make it any easier to accept but it happens. I went down to pick up my stick and it was a weird feeling. I went back to the bench and I knew right away. I called [trainer Don Del Negro] down and said it's not the way it's supposed to feel.''
Sweeney said what made it harder to take was the fact that defensemen are left so unprotected.
''The forwards in that situation for the most part have carte blanche to come,'' he said. ''You're not going to bait me into saying what you want me to say about it so I'll leave it at that.''
With regard to the game, the Bruins were not very good in the first period. They were outshot, 6-4, in the first 20 minutes with none of the four shots coming from the forwards. Lucky for them, they were only down a goal, courtesy of defenseman Kenny Jonsson at 6:19 on the power play.
In the second, Jason Allison at 10:05 and Tim Taylor (two goals) at 11:50 gave Boston a 2-1 lead. Zigmund Palffy tied it with his first of two goals, scoring on the power play at 18:29 with the Islanders on a two-man advantage.
Steve Heinze put the Bruins up, 3-2, at 2:06 of the third and Taylor made it a two-goal edge at 2:44. Palffy's power-play goal at 4:11 closed it to within 4-3 but rookie left wing Sergei Samsonov tallied what held up as the winner at 4:40, chasing Islanders goalie Tommy Salo in favor of Wade Flaherty. Trevor Linden closed out the scoring at 17:27.
This story ran on page C01 of the Boston Globe on 03/02/98.
© Copyright 1998 Globe Newspaper Company.
---